Introducing our 2023-2024
Half Year Program!
PRIMETIME CHEER takes PRIDE in putting Performance Rec Cheerleading on the map!
This program is great for athletes looking to cheer more competitively.

Our half year season goes from November - April.
Placements consist of a prep clinic and a two day evaluation process. This will give the coaching staff an opportunity to evaluate athletes and arrange teams. Athletes should wear comfortable athletic clothing, sneakers and long hair tied back in a pony tail
Team Placements: November 5th & 7th 2023.
Practices begin the week of November 13th
Sunday November 5th, 2023
| | |
| --- | --- |
| Birth years: 2015-2018 | 3:00-4:00 pm |
| Birth years: 2012-2014 | 4:15-5:15 pm |
| Birth years: 2011-2006 | 5:30-6:30 pm |
Tuesday November 7th, 2023
| | |
| --- | --- |
| Birth years: 2015-2018 | 5:15-6:00pm |
| Birth years: 2012-2014 | 6:15-7:15 pm |
| Birth years: 2011-2006 | 7:30-8:30 pm |
Team Placement Announcements
A congratulatory email will be sent to all registering parents/guardians. The email will include the team your child made, season calendar, & coaches information.

Everyone makes a team!
Athletes are placed on a team at the discretion of the coaches. This is based on a variety of factors including age, level and experience. We will try to match up the athletes by skill level to the best of our ability.
Process:
Athletes will demonstrate jumps, tumbling skills, and choreography in group settings. This is not intended to be a stressful day, and we should comfort our athletes letting them know everyone makes a team
.
Teams and Fees



​
Teams Offered
TEAM 1- ​8U
TEAM 2- ​12U
TEAM 3- ​14U
TEAM 4- ​17U
Practice schedule(Nov-April): 2 day a week
Cost: $180/month for 6 months

Included in cost
Tuition, weekly practices & tumbling, routine music, choreography, competitions fees (4), competition bow
Not included:
Competition Uniform
Cheer shoes: We ask you purchase any all white sneaker you prefer (unless already have) *All other Primetime Cheer apparel is optional*

Payments can be paid via credit card, cash or check. Primetime Cheer
will send out a subscription option, or email invoices days in advance as a courtesy. Monthly Payments are due within 5 days of invoice date. If payment is not received within 5 days of the due date, a $25 late fee will be added to the monthly fee and athletes will not be able to participate until the balance is no longer outstanding. Monthly fees cannot be prorated for any reason and all fees are non-refundable.
Any athlete that decides not to finish out the season for any reason, is still required to make the monthly payments.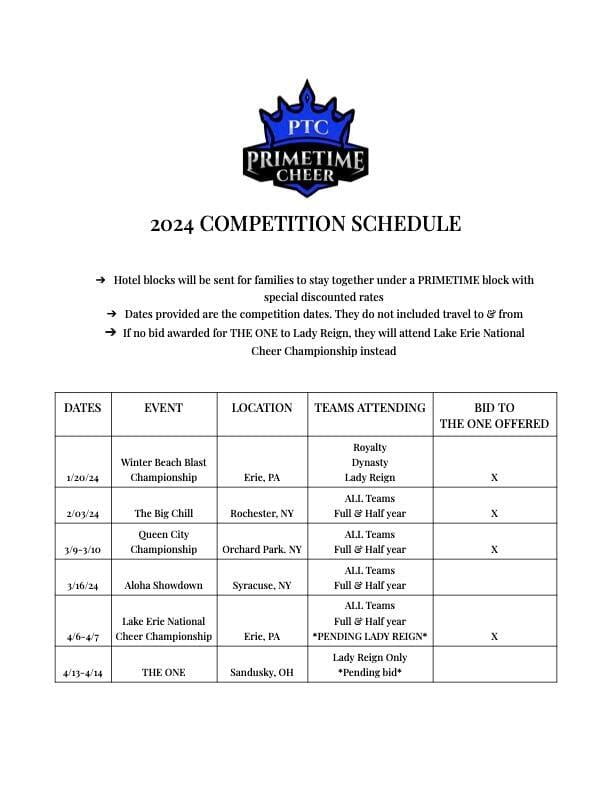 1 competition will be a travel/overnight (Drivable distance). The other 4 competitions will not require overnight travel expenses. Competition travel is the responsibility of each family. Athletes do not take a bus to events. It will be the responsibility of the family to bring athletes to and from events/competitions.
Performance rec is a happy medium between recreational cheer and all

star cheer. Though there are slight differences, performance rec cheer mirrors all star skills and levels very closely. In performance rec divisions, athletes are placed on teams by age, and skill level, up to level 4.
PRIMETIME CHEER
75 Bermar Park
Rochester, NY 14624
Can I cheer for Primetime, as well as a school team
Yes! Practices and competitions are planned around school competitions.

What if I cannot make the team placements?
That's okay. All athletes need to be registered with all registration paperwork and registration payment by Nov 1st, 2023. If you are not able to make the registration days, please email info@primetimecheer.com to set up a makeup evaluation.
What is the practice schedule?
Half year team practices: This schedule is tentative on team placements. Athletes that under the age of certain teams may still be placed on that higher aged team, pending tumbling and stunting skills
Team 1 (8U)
Sundays 2:00-3:15 pm
Tuesdays 5:15-6:15 pm
Team 2(12U)
Mondays 6:30-8:00 pm
Thursday 7:00-8:30 pm
Team 3 (14U)
Sundays 3:15-5:15 pm
Tuesdays 6:15-7:30 pm
Team 4 (17U)
Sundays 5:30-7:30 pm
Tuesdays 7:30-8:30 pm